My much anticipated HTC Thunderbolt tool is HERE!


This tool is your all-in-one toolbox for the HTC Thunderbolt.

With it, you can:
S-OFF and Root




Unroot




Flash CWM, CWM Touch, TWRP, or 4ext recovery




Boot menu: Reboot, Hot reboot, Reboot recovery, Reboot to fastboot, Reboot to hboot, Power off




Disable HTC OTA Updates




Run an ADB/Fastboot Command Prompt




Install Busybox
*** MANY MORE FEATURES COMING SOON! ***

SCREENSHOTS: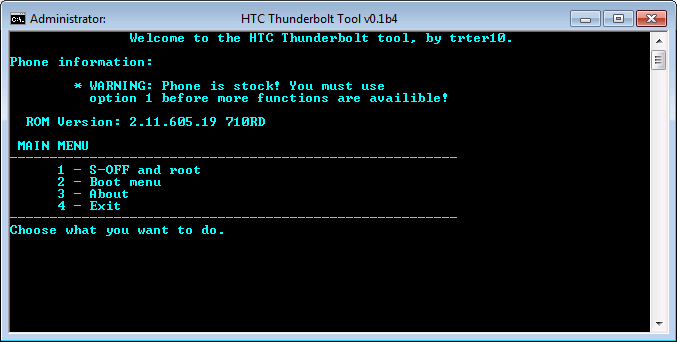 CREDITS:
*ChainsDD - Superuser


*The Revolutionary team:
Adam Glasgall, Joshua Wise, Koush Dutta, Kenny Millington, Eric
Smaxwill, Michael Sullivan, 0xf4b, Ryan Pearl, Sen Verbrugge, Matt
Mastracci, Matthew Fogle, Sebastion Krahmer, BumbleDroid, Scott
Walker, attn1, Kevin Bruckert, and toastcfh - Revolutionary S-OFF


*The Revolutionary Team - ZergRush


*Kevin Bruckert (Agrabren) and #TeamWin - fre3vo exploit


*Koushik Dutta - ClockWorkMod recoveries


*TeamWin - TWRP recovery


[email protected]_xda on twitter - 4ext recovery & app


*TrueBlue_Drew @ XDA - Splash Flasher (Currently Unimplemented)


*AndroidGod -Being my official beta tester for the unrooter


*Goldfish - Foooood


*My fan - I got hot while making this ok?


*Zomboy & MonstercatMedia - For making the sick music I listened to while coding this


*HTC - They kinda like, made the phone.


*Me - Everything else was my original work. And because I'm a conceited jerk. ;P





INSTRUCTIONS:



Put ThunderboltTool.exe in its own folder, then run ThunderboltTool.exe. Then run ThunderboltTool.bat. The .bat is what you will use from then on.



READ THE README THAT POPS UP ON THE FIRST RUN AND FOLLOW ALL ITS DIRECTIONS!!!!



CHANGELOG:

Changelog can be found here: https://github.com/t...r/CHANGELOG.txt



DOWNLOAD:



Main Download: http://tinyw.in/Jrf0

MD5 is on download page.

ENJOY!